According to the Optional Protocol to the Convention on the Rights of the Child on the sale of children, child prostitution and child pornography, the prostitution of children is "the use of a child in sexual activities for remuneration or any other form of consideration." Unfortunately, there is a lack of quantitative data on child prostitution. Current statistics rarely capture the reality of the issue because many victims do not speak about their experience and the crime is hidden very well. UNICEF estimates that around one million children enter prostitution every year. Child Prostitution occurs in every country. It is important to recognize that numbers change and many factors cause increases or decreases in child prostitution.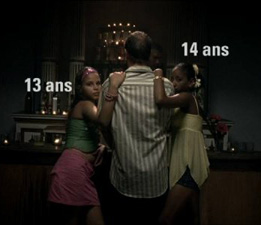 The prostitution of children usually occurs in closed environments such as brothels, bars, sex tours, clubs, massage parlors, private homes, or particular street zones; and in the vast majority of cases, child prostitution is organized by small or even large scale networks of pimps and criminal groups. Therefore, many actors are involved in child prostitution: the abused child, the sex abuser and the sex exploiter or the brothel keeper, who act as intermediaries.
Children can also be exploited through prostitution when sexual acts are exchanged for goods and services such as housing, food, clothing, drugs, or better grades in school.