Every donation helps protect child victims and prevent others from becoming victims.
By supporting ECPAT Belgium with your donations …
You protect victims of sexual exploitation.
You avoid that other children become victims.
You mobilize governments to trigger changes.
How do we use your money?
To prevent potential cases of victims of sexual exploitation or trafficking, we must start with raising awareness among children themselves. Thanks to your donation, we may create educational and preventive materials to support young people.
If a child is sexually exploited, he/she will not be protected if he/she is not identified. It is through the awareness-raising and training of front-line actors (guardians, lawyers, tourism professionals, reception centers) that we can achieve child protection.
Accordingly, ECPAT Belgium thinks it is vital to raise awareness among the general public: we all are travelers, which makes us potential witnesses. Thanks to your help, more cases can be reported.
Our audited annual account is published in full transparency on Donorinfo.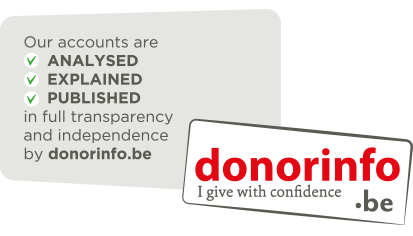 Also, you benefit from a tax deduction of 45% for any donation of 40 euros or more per year. Click HERE for more information
If you have any questions, please contact us via e-mail info@ecpat.be or by phone +32 478 60 12 33.
2500
children benefiting from our projects
76
partnerships with hotels and tourism schools
102
.
911
petitions against child trafficking
410
professionals are trained each year
Include ECPAT Belgium in your will
You protect victims of sexual exploitation.
You prevent further abuse
You are mobilizing governments to make changes.
You have the option of including three types of bequests in your will:
A universal legacy: all the assets of your estate, except the part you leave through another legacy, whether it is a private or universal legacy;
A legacy by universal title: a fixed percentage of your assets;
A bequest by particular title: a specific sum of money or a specific asset, such as a dwelling, a painting or a specific piece of jewelry.
The three types of legacies have various consequences, particularly in terms of the right of possession.
For more information, contact Atifa Boulafdal by email or at +32 (0) 478 60 12 33
You don't have a direct heir? The duo legacy can be particularly interesting. Indeed, you can pass on a larger estate to your nephews, nieces or friends while making a bequest to a good cause.
The Inheritance Tax Code provides that a person X may be granted by will a legacy free of any inheritance tax, provided that a person Y (e. g. ECPAT Belgium) takes over the payment of X's inheritance tax.
For more information, contact Atifa Boulafdal by email or at +32 (0) 478 60 12 33
The legacy in duo must meet 3 conditions:
Make a will.
Bequeath part of your assets to one or more people.
Bequeath the other party in favor of a work that you charge to pay all the inheritance taxes, in this case the association ECPAT Belgium.
Ensure that ECPAT Belgium retains a substantial net legacy after the issuance of the legacies and the payment of all inheritance taxes. Your notary or our lawyer can help you with the calculations.
DONATIONS
Donate for ECPAT Belgium via two options:
Manual donation: no tax must be paid for this type of donation. This is the direct and informal transmission of property, given by the donor to its beneficiary, in this case ECPAT Belgium. This type of donation is possible for cash, jewelry, furniture, etc.
Donation by notarial deed: the donation of real estate can only be made by notarial deed. In this case, ECPAT Belgium will have to pay 7% donation fees in Wallonia and Brussels and 5.5% in Flanders.
For more information, contact Atifa Boulafdal by email or at +32 (0) 478 60 12 33
LIFE INSURANCE
Designate ECPAT Belgium as (one of) the beneficiary(ies) of your life insurance. ECPAT Belgium will then have to pay the same inheritance tax as for a legacy.
For more information, contact Atifa Boulafdal by email or at +32 (0) 478 60 12 33
You can also donate by bank transfer
IBAN (BNP Paribas Fortis) : BE27 2100 4712 4773
BIC : GEBABEBB